Tanzania's most refreshing lager.
I was fortunate enough to be the Creative Director for one of Tanzania's most exciting and dynamic brands, Kili.
With its involvement in local football, music, dance and basically anything fresh, fun and Tanzanian, I was able to get in touch with the heartbeat of the young and funky side of the county's life.

One of my first briefs on this brand was to make it a more youthful, accessible and vibrant. It was wasn't gaining new consumers and was felt to be getting too patriotic and serious. I can safely say that I left Tanzanian 5 years later having achieved this goal, and more.
_________________________

BRAND TVC - ZUNGUSHA  (Swahili slang for 'Another Round')

The brief was to highlight refreshment as well as talk to the 2 main properties the brand owns (Football and Music)
___________________________

CAMPAIGN TVC - 100% TZ FLAVA


Celebrate all things truly Tanzanian, the way they speak, they way they dance, the way they celebrate.
___________________________

FOOTBALL STING

(1 of 9)
9 short stories were created to strengthen the link between Kilimanjaro Premium Lager and Tanzanian football.
___________________________

ACTIVATION
Brief:

Develop and activation to create hype and excitement around Tanzania's 50th year of Independence.
Activation:

We gave each of the 4 major cities in Tanzania a different coloured flag with our campaign logo printed on each (1 of the 4 colours from the national flag). People then ran these flags from each of city towards Mount Kilimanjaro, handing it from one person to another until all 4 flags met up at the base of the mountain. A 'Joining of the Flags' ceremony was then had, and thereafter one person then did the final leg of the journey to the top of Kili with the JIVUNIE and TZ Flag.
As a consumer you could also participate by purchasing a limited edition Kilimanjaro Premium Lager and entering into a draw to win prizes.
The event generated a lot of free PR and cemented Kilimanjaro Premium Lager as a truly Tanzanian beer.
___________________________

Nani Mtani Jembe? (Swahili Slang, loosely meaning to 'take whats yours')
Brief:

When it comes to Tanzanian Club Football, the country is divided into 2 teams (Simba and Yanga), and 2 colours, red and yellow.
As the sponsor of both football clubs, Kilimanjaro Premium Lager wanted to create a bit of rivalry and fun between the fans.
Activation:
We developed a campaign called 'Nani Mtani Jembe' where each club was given 50 Million Shillings, and over a 3 month period fans were asked to 'steal' money from the apposing team to give to their own. Each time a fan bought a Kilimanjaro Premium Lager they could SMS a unique underliner code with their Clubs name, and money would be taken from the other club and put into their own clubs kitty.
This generated mass media coverage as well as great excitement in bars around the country. Bar Activation's were also held during this period where fans could compete for prizes by demonstrating how big a fan they were of their team.
The campaign ended in the national stadium with a final match played between the two rival teams. At the end of this match it was announced which team officially had the most fans and had managed to 'steal' the most money.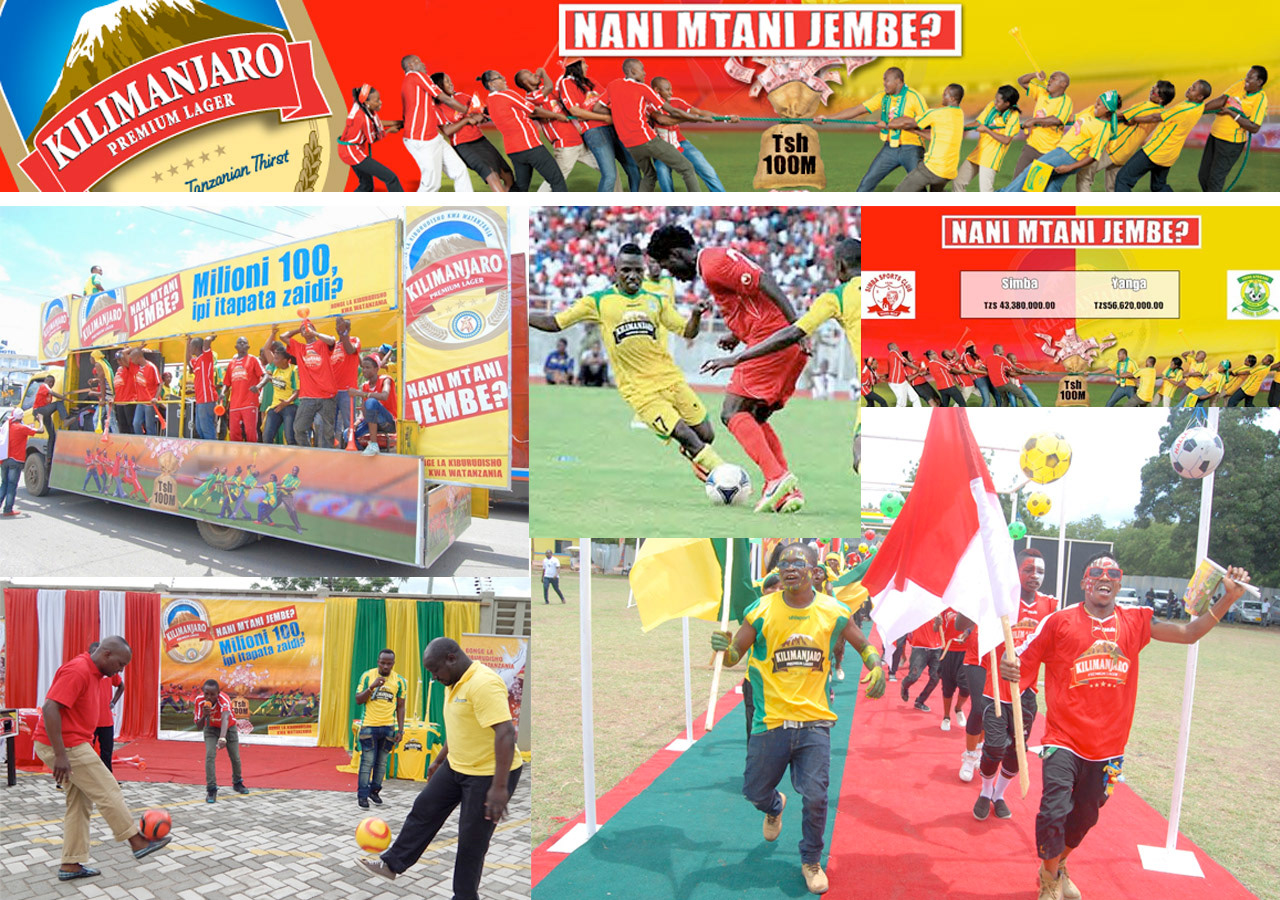 ___________________________